Details of Sarathi Seva in Railways
The Sarathi Seva service was introduced by Konkan Railways for showing their care and support to the physically challenged travelers. While presenting the Railway Budget of 2016-1027 the Railway Minster of India, Suresh Prabhakar Prabhu announced that Indian Railways will provide complete support and extension to the Sarathi Seva service of Konkan Railways. Along with this service, Indian Railways will has announced that it will make all the operation halts of the trains to commercial halts, for the convenience of the travelers.
| | |
| --- | --- |
| Name Of the Service | Sarathi Seva service |
| Announced By | Suresh Prabhakar Prabhu |
| Launched On | Jan 2016 |
| First Launched By | Konkan Railways |
| Other Station Followed the Service | Ratnagiri, Chiplun, Karmali, Madgaon and Udupi stations |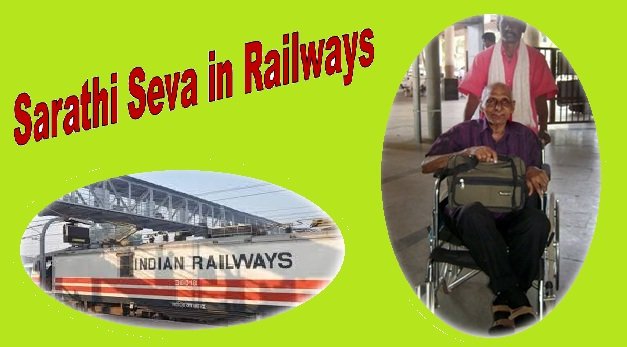 Sarathi Seva in Railways Key Features
Under the Sarathi Seva service the old and disabled passengers who require assistance and help at stations will be provided wheel chair with an assistant for free. They will be taken from the coach to the exit and vice-versa. Also the other paid facilities of that of battery operated cars, porter services, etc. will be enhanced.
The Sarathi Seva service is launched by the Konkan Railways as a good will gesture. The Indian railway has taken an initiative of strengthening the Sarathi Seva services by adding many more facilities for the convenience of the passengers.
The extension will also include an hourly booking facility of retiring rooms. Previously rooms were available for a minimum of 12 hours booking. But now for the ease of the passengers, rooms can be booked for fewer hours.
Who are Eligible under Sarathi Seva
The passengers who are physically disabled or are old and cannot manage walking, are eligible for booking the Sarathi Seva service of free wheelchair and assistant. They can book for this service before they reach the particular station.
How it is implemented?
The whole process of providing assistance to the disabled passengers will be done by the Konkan Railways. Otherwise all the other extensions that have been made by Indian Railways will be taken care by the IRCTC department. Indian Railways is also working with the insurance companies so as to provide optional travel insurance to the passengers for the railway journey. This option will be given to the passengers when they book their tickets.
Booking Process?
Under the Konkan Railways, wheel-chair services along with an assistant will be provided to the disabled and old passengers. This facility will be given for free. A passenger who is disabled or is old can book this facility from before by sending an SMS to the mobile number- 9664044456. One needs to send an SMS to this number with their name and journey details.
For availing similar facility at other stations in India, booking of wheel chairs and battery cars can be done at the IRCTC website, for which some cost has be incurred.
Facility under Sarathi Seva
The facility provided by the Konkan Railways as the Sarathi Seva service is of a wheel chair and an assistant to the disabled and old passengers. As an extension of the Sarathi Seva service there are different facilities offered by the Indian Railways-
| | | |
| --- | --- | --- |
| S.No | Services | Explanation |
| 1 | Facility for children and mothers | It has been announced that the trains will have children's food items in the menus. Apart from this the station will be equipped to provide baby foods, hot water, hot milk, etc. Also the train toilets will be equipped with changing boards for babies. |
| 2 | Modern coaches | Smart coaches will be developed in trains. This will include facilities such as automatic doors, better seating facility, accessible dustbins, bio-vacuum toilets, vending machines, LED lit boards, etc. GPS will also be installed in trained so as to provide information regarding upcoming stops, etc. |
| 3 | Advanced skilled staff | The front-end staff will be provided with special training and distinguished uniforms so that travelers can identify them. |
 Other Articles