Punjab PM-JAY Free Health Insurance [Pradhan Mantri Jan Arogya Ayushman Bharat Yojana 2018-19] Application Form and Eligibility Criteria
The central government has already launched the PM-JAY in India. It is time for the states to implement the same in their respective areas. The newest state to join this list is Punjab. The state government wants to offer affordable treatment to poor and needy households. With betterment in healthcare infrastructure, the state government will be able to uplift the quality of life for people of all sections.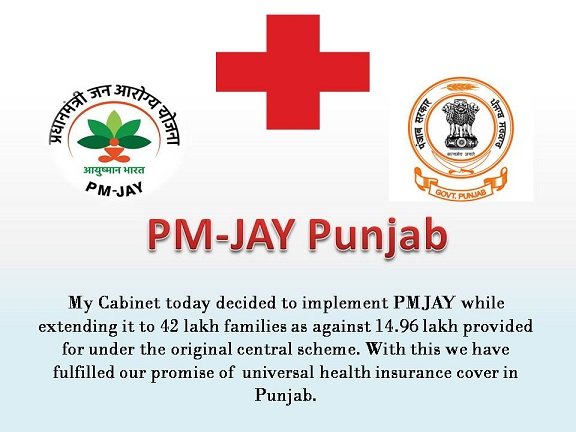 | | |
| --- | --- |
| Name of the scheme | Pradhan Mantri Jan Arogya Yojana or PM-JAY |
| Launched in | Punjab |
| Launched by | Amarinder Singh, Chief Minister |
| Original launch date | August, 2018 |
| Announcement date in Punjab | October 2018 |
| Target beneficiaries | People below Poverty Line |
| Insurance Coverage | 5 Lakh |
| Helpline | 14555 |
| Website | www.abnhpm.gov.in |
Key features
Better treatment facilities – The implementation of this scheme will help Punjab government to revamp the entire medical infrastructure that will be conducive for the poor and needy masses.
Cashless and paperless treatment policy – The entire system has been implemented to make medical service easy. This paperless medical insurance policy offers the beneficiaries the advantage of cashless treatment.
Total coverage amount – As per the scheme draft, each insured person will be able to secure a medical coverage of Rs 5 lakhs.
Secondary and tertiary treatments – Registered beneficiaries will attain free treatment for secondary and tertiary conditions. They will receive financial assistance for pre and post hospitalization as well.
Empaneled medical institutes alone – The cashless treatment facility will be available to those beneficiaries, which choose to attain treatment in any of the empaneled hospitals. Both government-run and private organizations will be enlisted.
Total number of beneficiaries – In Punjab, around 42 lakh families will be able to register and get the benefits of this scheme.
No premium for beneficiaries – Any insurance policy requires a certain amount to be paid as its premium. Under this scheme, eligible beneficiaries will not have to bear this expense.
Number of treatment packages – The scheme will offer eligible candidates 1,350 types of treatment packages. These will include surgeries as well as therapeutic treatments.
Eligibility and documents necessary for application
Residents of this state – If you want to register for this scheme, from Punjab, then you must have residential proof that you are a legal inhabitant of this state. Residential documents will come in handy during registration.
Aadhar card is a must – All interested applicants must possess their Aadhar cards. Without this pass, their registration will not be complete.
Registration in SECC 2011 data list – The main eligibility is to have your name registered in the SECC 2011 Data list. This list contains the names of all individuals who fall below the poverty line. If your name is in the list, then you will attain the cashless treatment facilities.
How to get application form?
There is no need to fill in any application form, either online or offline, to become a registered beneficiary. If your name is in the SECC 2011 Data list, then you will automatically become a beneficiary of PM-JAY. The Punjab government will check the list and send the Golden Card to your official address.
How to apply for the scheme?
It has already been mentioned that you need not do anything to register.

Once you get the Golden Card, you must take it, along with the Aadhar card, and head toward the nearest empaneled  hospital.

In these hospitals, you can learn about the scheme and its benefits from the Arogya Mitras. These people will take the Golden Card and the Aadhar card.

The Arogya Mitra will type in all details in the scheme software and upload it accordingly.

This completes the entire registration process. Once the details are uploaded in the system software, you will attain cashless treatment in any empaneled hospital, in any part of the nation, as long as you furnish the Golden pass.
Contact details of the scheme
In case you possess any doubts in your mind regarding the scheme, then you can get in touch with the customer care executives via the helpline. Yes! A new 24X7 helpline has been launched, especially for the beneficiaries of this scheme. Any person can dial 14555, and get their doubts cleared with pertinent information. This is a toll free helpline number.
The state as well as the central government faces many obstacles while trying to reform the medical and healthcare facilities. Population and lack of awareness are two primary factors, which hinder the reformation tasks. With the implementation of PM-JAY in Punjab, the state government will be able to bring about positive changes.
 Other Yojana